Michigan Xtreme is a ADVOCARE Advisor or all your sports nutritional needs.  Contact Coach Bennett for information about being a Distributor or Advisor to receive 20-40% discounts on Sports Supplements like Spark, Rehydrate, etc.  Email Coach Bennett if you are interested and would like to order products michiganxtreme@gmail.com
Make Michigan Xtreme your NUTRITIONAL and STRENGTH Coach!
Click on the links below for more information on XTREME NUTRITION:
TO PLACE YOUR ORDER CLICK HERE
MX STRENGTH TRAINING
Strength training is critical to a wrestlers success going into their high school season!
Commitment – Consistency – Accountability
Researchers examined different habits and many of the participants showed a curved relationship between practice and automaticity of the form depicted below (solid line). On average a plateau in automaticity was reached after 66 days. In other words it had become as much of a habit as it was ever going to become.  No two wrestlers are the same…which is why MX Strength & Nutrition adds a "CUSTOMIZED" plan to meet your unique situations, body types, goals, motivation and access to training tools & resources (i.e. school weight room, health club membership, etc.).  Most strength and nutrition programs fail due to the accountability piece.  The MX Strength & Nutrition program includes your very own COACH to hold your accountable, to keep you on track, to teach, to assist, to adjust and guide you forward on your plan that is unique to you!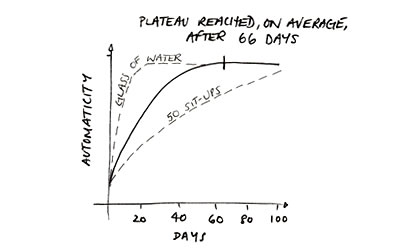 Xtreme Certified Strength & Nutrition "COACH"  will guarantee significant results in 24 days….the time it takes to form a habit!
This program is designed to increase muscular strength, muscular endurance, and explosiveness combine with the right nutritional plan for you.
In a sport such as wrestling all three of these components are essential to success.
By joining the MX Strength & Nutrition program you are committing to becoming a better wrestler.  With proper strength training and nutrition combined with hours on the mat you will truly maximize your full potential.
In Brian Tracy's "Seven Steps to Developing A New Habit" the first three steps are built into the MX Strength & Nutrition program as key success factors to achieving results 1) Make a decision (COMMITMENT), 2) Never allow an exception (CONSISTENCY), and 3) Tell others (ACCOUNTABILITY).  MX Strength & Nutrition goes one step further to guarantee results and includes the involvement of a "COACH."  The Xtreme Certified Coach will be watching and following up frequently!  No other program includes this piece in the critical first 24 days to jump start the habit forming time frame.
Nutrition – When to eat…and what to eat? The Xtreme Certified Coach will provide priceless information on what you should be eating and when.  Certain times of the day there are specific things you should and should not eat.  Also as far as supplements…what you should take to maximize your workouts and progress…Michigan Xtreme will be your ADVOCARE distributor!
What's Next?
1) Decide.  Make the commitment to get started by signing up…contact us today!
2) Customized Plan.  The Xtreme Certified Coach will contact you to schedule a 1-on-1 consultation session to write a customized plan based on your goals.
3) Get started!  The Xtreme Certified Coach will be with you all the way through your journey to help you with accountability phone calls, text reminders & motivation, progress reports, weekly tips and available 24/7 for questions and advice.
For more information contact Michigan Xtreme at 616-635-7559 or email to michiganxtreme@gmail.com.
Program Cost:
(1) Free consultation! Email Coach Bennett at michiganxtreme@gmail.com
(2) Consultant of your Nutritional Needs (see website) – For more information CLICK HERE
"BUILDING CHAMPIONS"